1. Singapore reverts to Phase 2 from 22 July to 18 August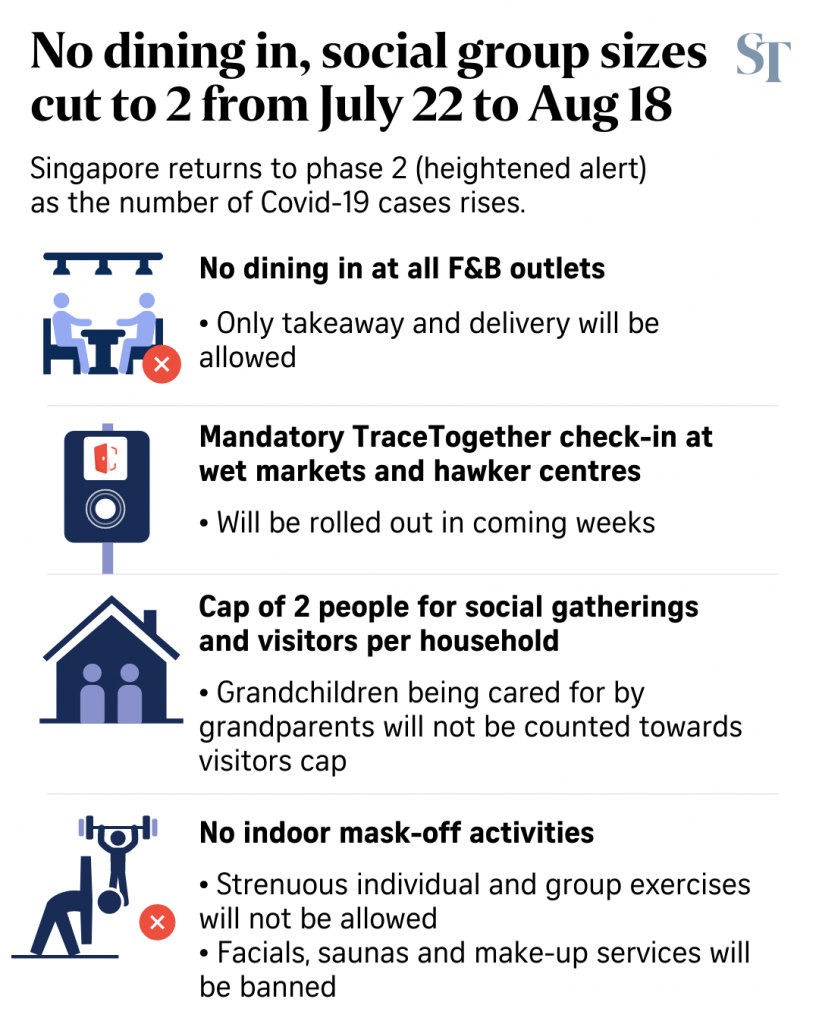 Sources: The Straits Times
2. Updated measures for migrant workers (MWs) (Heightened Alert)
MWs will still be allowed to visit Recreation Centre. MWs found to have visited other areas without valid reasons may face further actions. including having their work passes revoked.
All activities in the dormitories are capped at up to two persons per group.
MWs can continue to go to work if they have a green Access Code.
MWs can leave their dormitories to attend their Rostered Routine Testing (RRT) and vaccination appointments.
3. The courage fund for lower-income households affected by COVID-19
The fund provides a payout of S$500 to S$1,000 and eligible households may now receive up to two payouts.
Households will be assessed based on current income rather than income before hospitalization or isolation.
Click 
here
for more information.
4. Additional rental relief for commercial properties
An additional four-week rental waiver for qualifying tenants on government-owned commercial properties.
An additional two-week rental relief cash payout for qualifying tenant-occupiers and owner-occupiers of privately-owned commercial properties under the Rental Support Scheme (RSS).
Click here for more information.
5. Enhanced Jobs Support Scheme (JSS) for affected sectors from 22 July to 18 August 2021
(a) JSS support 60% for
Food and beverage (F&B), Gyms and fitness studios, Performing arts and arts education.
(b) JSS support 40% for
Retail, Cinemas, Museums (such as art galleries and historical sites), Family entertainment, Personal care services; and Tourism.
From 19 August to 31 August 2021, all aforementioned sectors will receive 10%.
Click here for more information.
6. Travelers entering Singapore from Australia and Jiangsu province to face tighter measures from 2 Aug 21 (2359 hours)
(a) From Australia
All travelers entering Singapore with a travel history (past 21 days) to Australia willserve a 14-day SHN.
Travelers will be required to present a valid negative COVID-19 PCR test taken within 72 hours before departure for Singapore.
(b) From Jiangsu province, Mainland China
Singapore citizens and PRs entering to Singapore will serve a 7-day SHN and subject to an on-arrival COVID-19 PCR test.
All short-term travelers holding an Air Travel Pass will not be allowed to enter Singapore.