From 11 April 2021, you will use your Singpass to log in to government digital services for corporate transactions, instead of your current Corppass ID and Password.
Government digital services will be updated to prompt you to 'Log in with Singpass' for corporate transactions.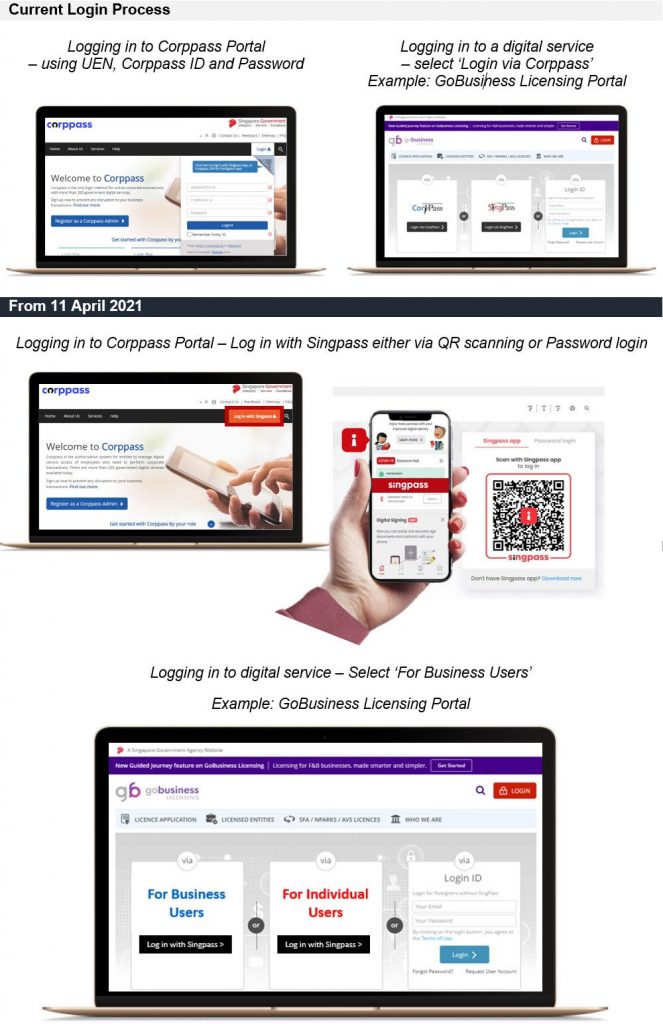 Why this change?
Singpass is re-introduced as the login mechanism for businesses to access digital services to simplify the user experience. This move comes after the implementation of two-factor authentication (2FA) for Singpass, which has mitigated the prior risk of employees sharing their Singpass details for corporate work, out of convenience. For users who have to transact on behalf of multiple entities, this change will remove the need to manage different sets of Corppass login credentials.
Know the difference.
Corppass and Singpass remain as two separate systems. While Singpass will be used to verify users for logins, Corppass will continue to be the authorisation system for corporate transactions. The Corppass portal enables company administrators to specify the digital services that each employee can transact on the company's behalf.
What do you have to do?
No action is required as long as you have a Singpass ID. All your existing Corppass accounts will be automatically linked to your Singpass ID. Admin registration and user creation will no longer require the use of Corppass ID.
FAQs
1. Does this mean that the Corppass system is now merged with Singpass?
No, Corppass and Singpass are run and managed separately. Singpass is used to verify a user for them to log in before proceeding to access and transact with government digital services. Corppass will continue to be the authorisation system for corporate transactions.
2. I have multiple Corppass accounts. How can I select which account to transact for, when I log in with Singpass?
After you have successfully logged in with Singpass, you will be presented with a list of entities which you are authorised to transact on behalf of. You may select the entity you wish to transact for on this page.
3. What do I do with my existing Corppass ID(s) and Password(s)?
You will not need to use your Corppass ID(s) and Password(s) for future transactions from 11 Apr 2021 onwards.
Click here for the full list of FAQs.