1.Mandate Electronic Refunds for GST and Corporate Income Tax
With effect from 03 Jan 2022, IRAS will cease the issuance of cheques for GST and Corporate Income Tax refunds. Such refunds will only be made via GIRO or PayNow. Companies that have not signed up for GIRO or PayNow will not be able to receive future GST or Corporate Income Tax refunds.
2. Jobs Growth Incentive (JGI) supports employers to expand local hiring extended to March 2022
Employers that increase their overall local workforce between September 2020 and March 2022 (inclusive) will receive Government support. The qualifying window for new local hires will be:
Phase 1 of the JGI: September 2020 to February 2021
Phase 2 of the JGI: March 2021 to September 2021
Phase 3 of the JGI: October 2021 to March 2022
To be eligible for the JGI, there must be an increase in overall local workforce size AND an increase in local workforce size earning ≥$1,400/month, compared to the August 2020 local workforce for Phase 1, or the February 2021 local workforce for Phase 2 or the September 2021 local workforce for Phase 3.
3.  Update on Enhanced JSS Support from 25 Oct to 21 Nov 2021
The Government will provide enhanced JSS support for the following sectors from 25 Oct to 21 Nov 2021: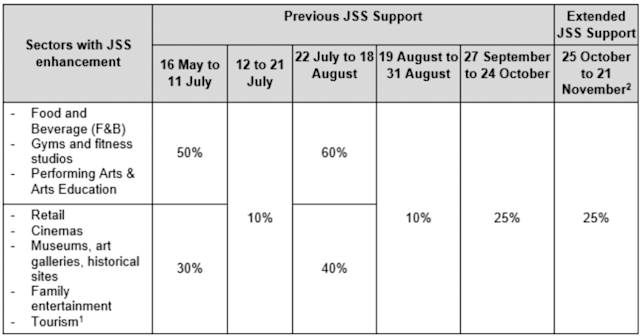 4. Only fully-vaccinated employees can enter the workplace from 1 Jan 2022
Employers are encouraged to make a "concerted push" to get their unvaccinated employees vaccinated as soon as possible. In support of this, employers may check their company's vaccination rate via a new web service from 25 October 2021.
5. Electronic Visit Pass (e-Pass) Replaces Inked Endorsements for Foreign Visitors Arriving in Singapore via Air Checkpoints
From 10 Oct 2021, all foreign visitors arriving in Singapore via air will receive an electronic Visit Pass (e-Pass) through email in lieu of inked endorsement stamps on the passport. The e-Pass will contain details of the visit pass granted, including the maximum number of day(s) of stay and the last day of stay allowed in Singapore.
Foreign visitors to Singapore are reminded to obtain a valid Singapore visa (if applicable) and the relevant entry approval in accordance with prevailing border control and health protocols, before seeking entry into Singapore. They should also submit their SG Arrival Card via https://eservices.ica.gov.sg/sgarrivalcard/ within three days prior to the date of arrival in Singapore. As the e-Pass will be sent to the email address indicated in the SG Arrival Card, visitors are reminded to ensure that they provide a valid email address in their SG Arrival Card submission.
For enquiries on their e-Pass details, visitors to Singapore via air may contact the ICA Airport Hotline at 62148427.
6. Singapore expands VTL to Australia and Switzerland
Starting from 26 October 2021 (Tuesday), Singapore will expand its Vaccinated Travel Lane (VTL) programme to Australia and Switzerland.
For the newly-announced travel laves, Singapore's Minister for Transport, S. Iswaran said Vaccinated Travel Pass (VTP) applications for both the VTLs with Australia and Switzerland will open on 1 November, and approved VTP holders can enter Singapore from 8 November.