1.All Companies and LLPs must lodged their RORC information with ACRA by 30 Jun 2021 
Entities that fail to lodge RORC information with ACRA by this date may face a fine of up to $5,000.
If your entity has authorized us and lodged the RORC information previously, you will not be required to lodge this information again unless there are changes to the RORC information.
       2. Singapore Budget 2021 has announced!
Deputy Prime Minister Heng Swee Keat on Tuesday (Feb 16) announced that Budget 2021 will shift "from containment to restructuring" as Singapore's economy continues to reopen.

More information –  

https://www.mof.gov.sg/singaporebudget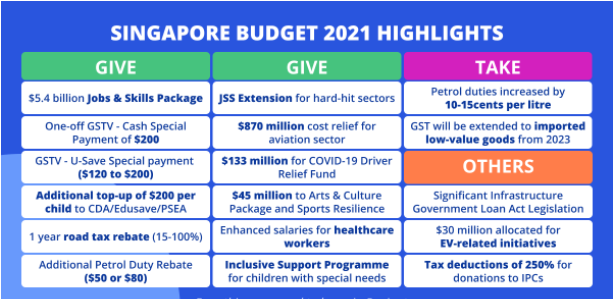 3. File your personal income tax by 15 April 2021 
       4. Dependent Pass holders have to apply for work passes from 1 May 2021 
DP holders will have to apply for an applicable work pass such as an Employment Pass, S Pass or work permit rather than the letter of consent
Existing DP holders who are currently employed can still continue working until the expiry of their LOC.