Visa Benefits
As the strongest passport, the Singapore passport is the leading country in addition to visa-free and visa-on-arrival. Once you have a Singapore passport, you are an officially certified Singapore citizen, and you can have a series of citizenship benefits!
Singapore passports are exempt from signing contracts with 190 countries and regions, and can enter China without a visa for 15 days.
Buying a house benefits
With a down payment of 30,000 to 50,000 SGD, Singapore citizens can own a well-decorated house in Singapore. Moreover, the surrounding facilities of the HDB are very complete, including clinics, gyms, and food courts.
After becoming a citizen, you do not need to pay the Additional Buying Stamp Duty (ABSD) when you buy your first home. Foreigners cannot buy HDB, and PRs can only buy second-hand HDBs when both husband and wife have been PRs for more than three years. Then when you become a citizen, as long as one of the spouses is a citizen, you can apply for a first-hand HDB (also known as BTO).
It is worth noting that after becoming a Singapore citizen, they can buy a terraced house/villa (Landed House), which is not possible with PR/foreigner status.
Education benefits
Singapore citizens enjoy free compulsory education. In addition, Singapore government schools and public universities will give priority to citizens, followed by permanent residents, then students holding family permits, and finally international students.
Scholarships issued by certain government agencies or private institutions are only for Singapore citizens, especially for grants. The highest level of scholarship in Singapore, the Presidential Scholarship, is only for Singapore citizens. Singapore citizens do not need to pay any fees when applying for National Library membership.
Work Benefits
If you become a permanent resident of Singapore, you will have a blue public relations ID card, and there is no visa date limit, you can enter and leave Singapore.
In addition, Singapore permanent residents can apply for permanent resident status for their spouses and children under the age of 21, and they can also apply for Singapore long-term family visas for their parents who are not residents of Singapore.
CPF Benefits
After becoming a Singapore citizen, the CPF (Singapore Provident Fund) payment ratio will be fixed at 17% of the monthly salary paid by the company, and you only need to pay 20% of your monthly salary.
Maternity benefits
The Singapore government spends about SGD 2 billion a year as a national childbirth fund to encourage citizens to have children. As long as one of the couples is a Singapore citizen and the child is also a Singapore citizen after birth, they can enjoy the maternity bonus.
The first is a one-time bonus. The government rewards the first two children with SGD 8,000 each, and each subsequent child with SGD 10,000.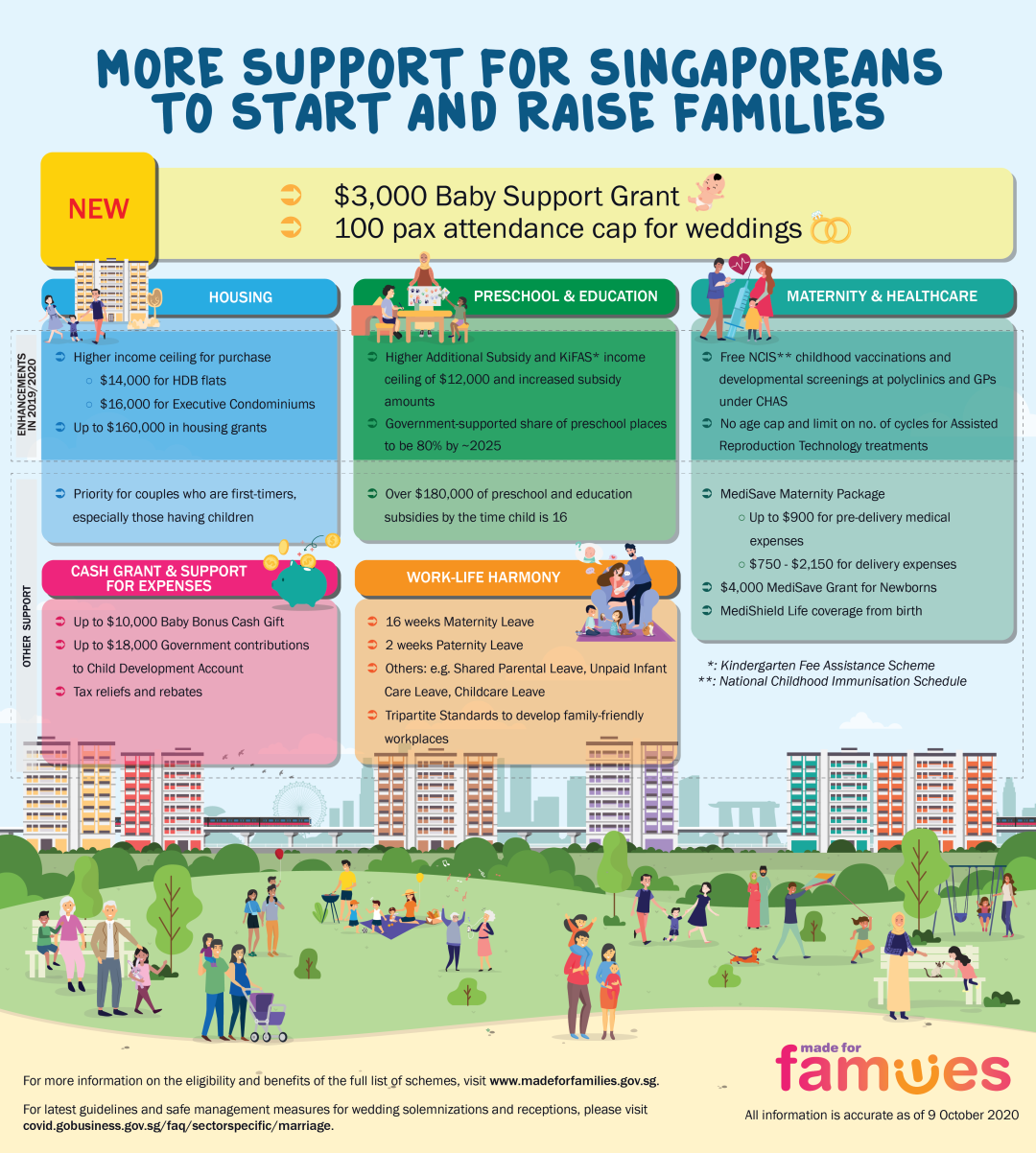 Medical Benefits
According to the WHO World Health Organization survey ranking, Singapore's medical system ranks sixth in the world and first in Asia. It is one of the most effective medical systems in the world.
In addition, the medical benefits of Singapore citizens and green cards include the "Medisave" advocated by the Singapore government. "Medisave" is to accumulate funds for hospitalization in old age and for disease risks.